What was this archaeological space?
The Patio of the Marine Friezes, also known as the Patio of the Stingrays and Manta Rays, dates to approximately the 5th century of the common era.
It consists of a ceremonial patio measuring 30 meters per side that displays a ceremonial corner room, on whose northern face appear two representations corresponding to the supernatural being known as the "Decapitator", or "Aia Paec", the principal deity of the Moche Culture.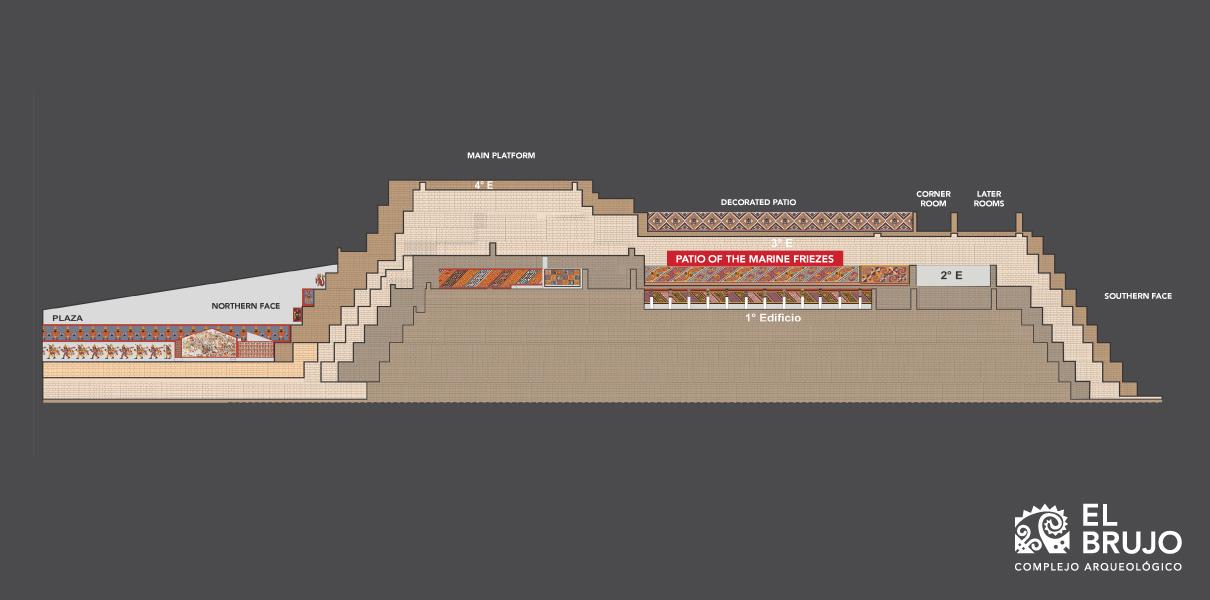 Its walls are beautifully decorated with polychrome, stylized designs, done in high relief, which depict stingrays and manta rays (hence the name), as well as life fish.
This space was the most sacred place of the second building, as identified in the constructive sequence of Huaca Cao Viejo, which was ritually sealed to convert it into the constructive fill of a newer and larger temple, whose construction totally covered it up hundreds of years ago following the custom in Moche society.
What work has been carried out, and for what purpose?
Attending the need for archaeological conservation, and also with the purpose of offering a better experience to visitors, the Wiese Foundation has kept the Patio of the Marine Friezes closed to the public since 2019, in order to perform full maintenance on its structures and renovate its cover and barriers, as well as to integrate this space with the adjacent rooms, recently revealed as a product of the archaeological excavations carried out from 2020 to 2021.
The new covering of 780 m2 offers advantages in terms of its maintenance and security, since it is made from a fire-resistant, light, and durable material; meanwhile, the new lateral barriers have been built, with materials that harmonize with the setting, seeking always to mitigate the severe conditions of humidity, salinity, dust, sunlight, and sudden temperature changes, all of which can have a negative impact on the preservation of archaeological heritage. Additionally, we have improved, widened, and renovated the spaces for transit.
Currently, the careful work of archaeological conservation continues on the marine friezes themselves; this work is constant and requires specialized knowledge and a great deal of patience. Therefore, if you visit us soon, you will not only be able to see how this beautiful area of the tour has turned out, but you will also be able to see the specialists in action.
The Wiese Foundation will continue working to make your visit memorable; further news is on the way. Visit our website: El Brujo.