The preservation of archaeological heritage is one of the main responsibilities that Wiese Foundation assumes in the El Brujo Archaeological Complex, since it is essential to generate knowledge through scientific research, adequate dissemination strategies and historical awareness in our society. In this sense, since the beginning of 2019, a series of actions have been carried out in the six depots of the Cao Museum, which seek to improve the storage conditions of the cultural remains recovered during the excavation campaigns at the archaeological site, especially in the Huaca Cao Viejo.
Each depot of the Cao Museum houses a line of evidence (ceramics, metals, organics, textiles, funerary bundles and human remains) produced by the archaeological interventions undertaken since 1990. This division of materials according to their nature contributes to making the collection management viable and to guaranteeing preventive conservation through adequate air conditioning of the depots.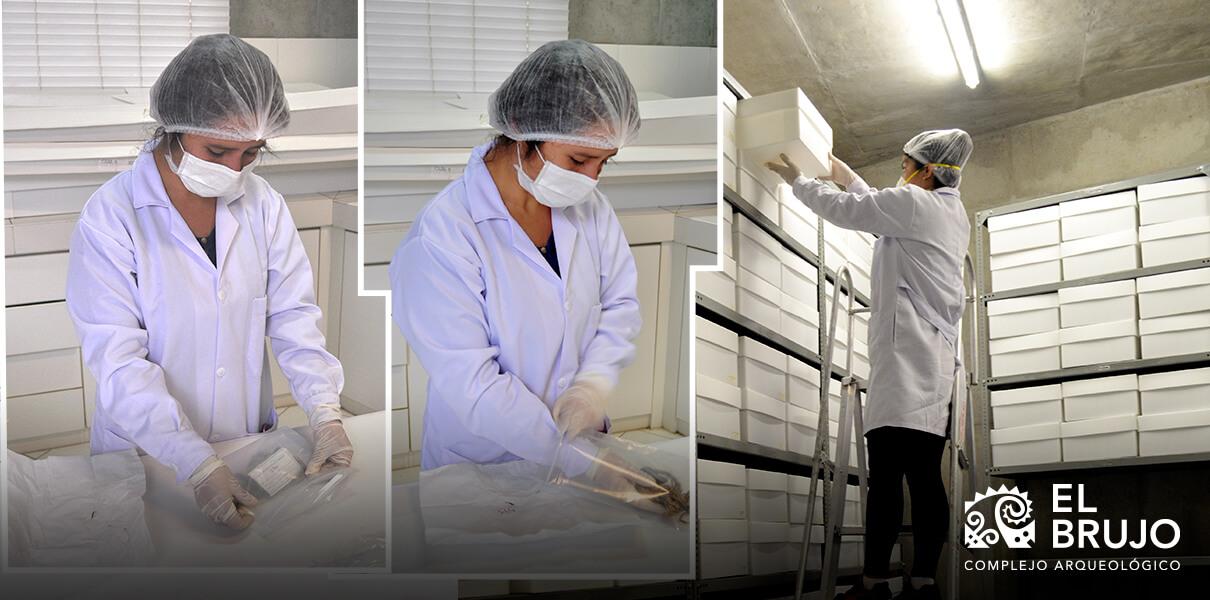 The reconditioning of archaeological collections has two main objectives: to mitigate overcrowding in the reserve areas and to guarantee the conservation of cultural remains. For this, the installation of new metal shelving has been planned with characteristics that are adapted to the architecture of the warehouses and the goods that they will contain. In addition, since the Museum is so close to the sea, it has been planned to paint it with special materials that prevent its corrosion.
At the same time, the packaging of the collections is improved by replacing cardboard boxes with containers made of white plastic cardboard sheets, a synthetic material with a harmless effect on archaeological assets. Because there is a considerable amount of fragmented remains, boxes of standardized measurements were designed that allow them to be stored for up to a total of six units per shelf panel. This system restricts excess weight and facilitates transfers.
Inside the boxes, the archaeological material is placed in bags and supports made of polyethylene and polypropylene. This contains the pieces properly, avoiding the use of organic material that contains high levels of acidity and favors the proliferation of insects and harmful microorganisms.
Currently, we have intervened at four of the six Cao Museum depots, achieving remarkable results in the organization of the materials and their physical-chemical stability through the use of suitable packaging and the optimization of the use of space in the reserve areas. Undoubtedly, these advances are positive in the efforts of Wiese Foundation to preserve the collections of the El Brujo Archaeological Complex.
Authors: Jose Alva and Augusto Bazán
Authors: Jose Alva and Augusto Bazán